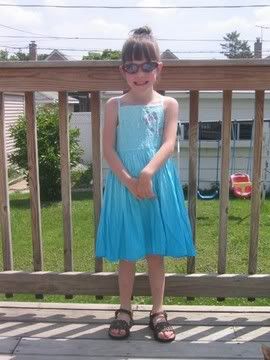 And a good time was had by all....especially Caitlyn. She couldn't get over to Grandma Linda's house fast enough on Saturday morning to spend the entire day in the pool. And she has the pink shoulders (sdespite loads of sunscreen) to prove it.
Sunday was spent all day in Grandma Rita's pool with dad. Mom got to stay home and enjoy the lonliness of the house. That was until Bobby, Donna, and Magee came over. Turns out their air conditioning was broken and they didn't want to spend the day sweltering in their place. Gee can't understand that?
And today, we all went back to Grandma Linda's to enjoy the pool once again. That was until the rain came in. But it made for a good excuse to get the kid out of there and home for a much needed bath. You would think that will all the pool time I have the cleanest kid around. But it is amazing how gross hair can become from chlorine and sunscreen.
Tomorrow will be the day of hell at work for me. It's like the last big day before the end of the school year hits. I have another IEP meeting with the Antichrist. Can't wait for that shit. After that, it's back to my office to complete the packing for the move that will be taking place on Wednesday. Once that is over, it should be smooth sailing to the 16th. And of course that date depends on my transition there. If not, then it is smooth sailing to the 30th. Either way, I am considering the year completed as of Wednesday.....no questions asked.