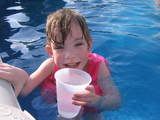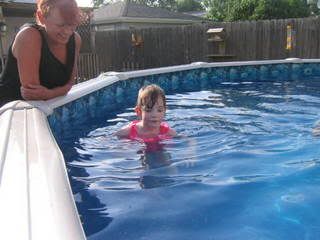 Well, summer has arrived along with the opening of Grandma's pool. Caitlyn is absolutely loving having her own personal swimming pool....yes she thinks it belongs to her despite the fact that it is not in our yard, but in one 3 blocks away. So for the last 3 days she has been in the pool nonstop..with the exception of going to school and sleeping.
Caitlyn is very mucha mommy's girl. If I am not around, she is always asking where I am and when I am coming to get her. However, thanks to this pool, that is changing at a rapid pace. She is swimming at my mom's today at about 4:15. Around the time that I would normally show up to pick her up. However, today, Mom called me and said to leave her there and Tutti would bring her home. I agree to that plan quickly as it gives me the much needed Nancy time that I so deserve. So mom askes Caitlyn, "Shouldn't mommy be here soon? Maybe you should get out and dry off so that she can come and pick you up."
Caitlyn's response..."No. I think Mommy will be here later, not right now. I think she is working longer today."
Now she is my very own personal secretary. I should ask her where I need to be tomorrow so that I am on time!