Silly me! In all the excitement about posting about my new job, I completely forgot to post pics and tell you about the girl's Easter. This year, for some reason, I didn't take pics of her coloring eggs. Not sure why I didn't, but I think it's because she was so into coloring the eggs with me, that I was completely engaged in the activity with her and never even thought about anything else. Or I am just a bad mom for not thinking about it. But I certainly do like the first explanation better.
Caitlyn loved loved loved coloring the eggs this year. She was all creative as far as what colors she was going to use and how she was going to mix the colors and precisely what color should be put on the egg first. She colored a total of 18. Normally, there aren't that many, but this year there were no casualties in the boiling process. So she got all of them, and no complaints from her about that.
When we were done coloring eggs, she decided that she wanted to write the Easter Bunny a letter. Which went a like this:
Hepe Estr
Luve Caitlyn
Nothing better than inventive spelling! If you need translating: Happy Easter Love Caitlyn. But it looks pretty much like it sounds I suppose.
Easter morning, Caitlyn woke up to a basket filled with goodies and ann empty egg carton. It didn't take her long to find all of the eggs. She had some trouble with a few of the more difficult ones, but she was able to find them all on her own. I am thinking that it's going to get increasinglly difficult to find new places to hide these eggs. We may have to expand to more rooms that just the living room and dining room.
For the next 4 hours or so, Caitlyn hung out watching TV and eating far too much candy and chocolate. But hey, that's what holidays are all about I suppose. She got to eat the goods and chill out while I cooked and finished up the cleaning. Once that was all done, it was bath time. And then she was FINALLY able to get into her dress. Which I do think that she asked me every 7 minutes if she could get dressed. From the time that she woke up until the time that I actually got her dressed.
And here is the end result: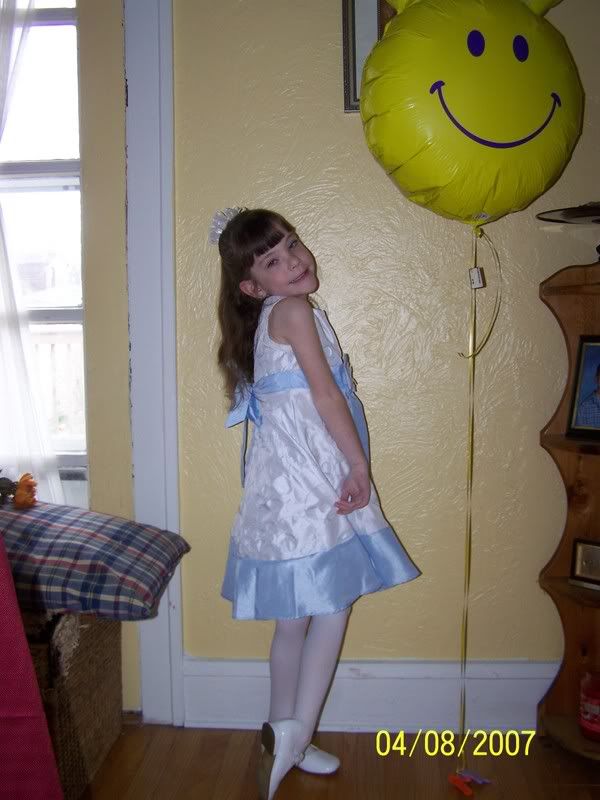 You see, everything is a super model pose these days. She can't just stand there nicely for me to take a picture. She has to pose for it. Very often I have to tell her to just leave her hands at her side and let me take the damn picture. But she insisted on modeling the dress for me. And nothing I said could convince her otherwise.